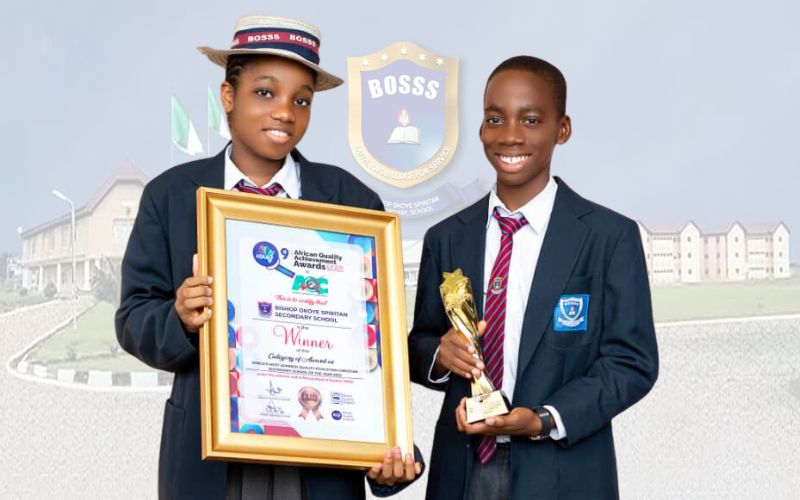 By BOSSS Media | June 6, 2023
The Africa quality Alliance has named Bishop Okoye Spiritan Secondary School as the Africa Most Admired Quality Education Christian Secondary School of the year. The declaration was made during The African Quality Achievement Awards and African Quality Congress held on the 20th day of May 2023 in Lagos.
Speaking during the program, the executive Director World Quality Alliance Favour Esorougue said quality and standards are very important in building business empires. She noted that organizations that have quality deficiency would not be able to compete globally as their services or goods cannot pass the integrity test of regulatory agencies in those countries.
She enjoined corporate organizations to always maintain standards and quality in their operations adding that the award given to BOSSS and others was to encourage them to do more.
Also speaking during the program, the chairman of African Quality Congress Dr Stanley Timeyin Ohenhen said keeping standards and quality should be a way of life as quality remains the only option to managing globally local brands. While congratulating Bishop Okoye Spiritan Secondary school and recipients of other award categories, the chairman charged them to remain on top of their game by upholding standards and quality in their respective oragnizations.
The ceremony had as its theme"leveraging Quality to Develop Creative Solutions for the Future,". The event was attended by industry experts, captains of industry and brands that have made waves in and outside Nigeria. Over 60 organizations were honoured with various awards.
While reacting separately to the award, the principal of BOSSS, Very Rev Fr Jude Ekemgba C.S.Sp and the Vice Principal /Dean II Rev Fr Vincent Ibe C.S.Sp who stormed Lagos to receive the award, expressed gratitude to God for the award conferred on BOSSS. They described the award as one that will propel the school to put in more effort to ensure that the standards and quality for which BOSSS has been known for are sustained. They equally thanked the organizers of the award for a diligent work that saw Bishop OKoye Spiritan Secondary School so honoured with the prestigious award.